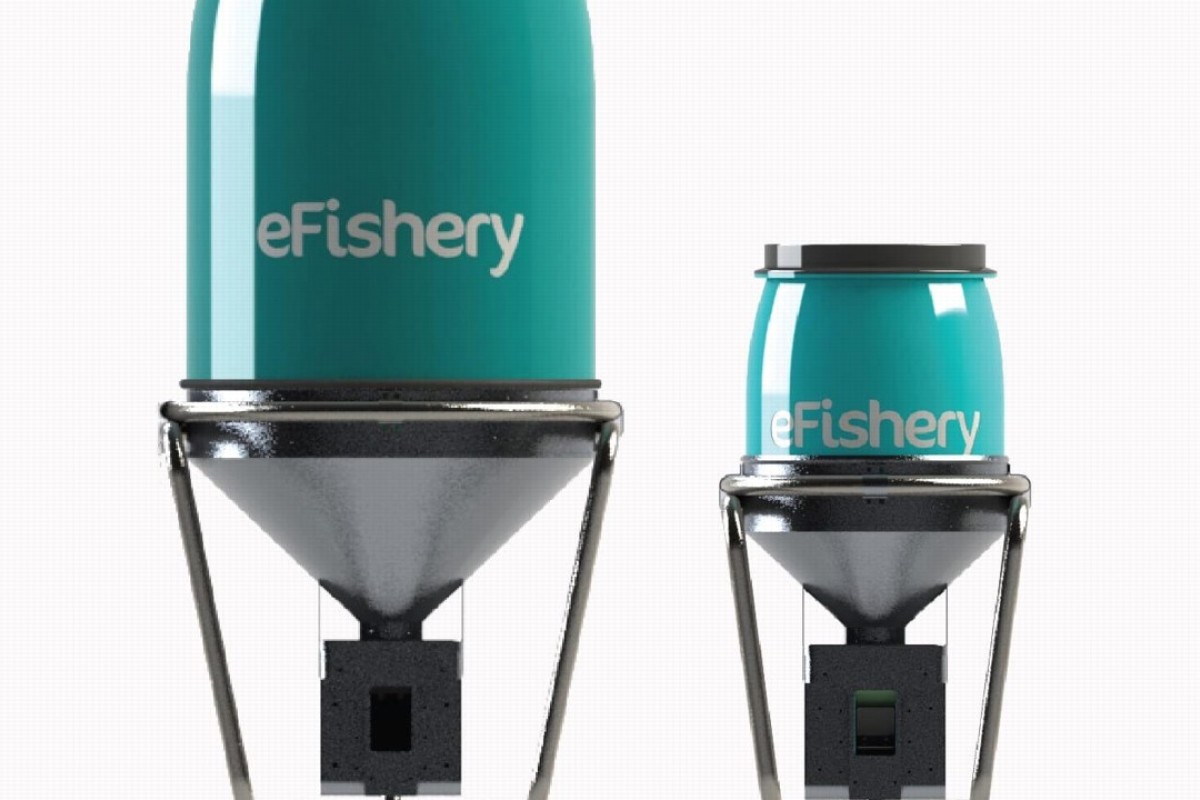 EFishery has developed a smart fish and shrimp auto feeder that knows when fish are hungry.
Southeast Asia has long been viewed as a follower when it comes to developing technology, but in recent years, home-grown tech companies have begun to mushroom. Here are some of the brightest hopes among the region's deep tech start-ups that have maintained – at least until now – a relatively low profile.
ELSA SPEAK (ARTIFICIAL INTELLIGENCE, VIETNAM)
This mobile app helps non-native English speakers improve pronunciation using AI technology. Users interact with a virtual assistant named ELSA that can detect and fix pronunciation mistakes. ELSA is also tailored to help reduce certain accents such as Vietnamese, Japanese and Korean. The start-up is backed by Silicon Valley-based venture capital fund 500 Startups and won a global tech competition at the Texas-based event South by Southwest EDU in 2016.
EQUATORIAL SPACE INDUSTRIES (SPACE, SINGAPORE)
With an area smaller than New York City, Singapore might not seem the ideal place to launch rockets into space, but Equatorial Space Industries thinks otherwise. The start-up claims its rocket can soar from a retrofitted barge on the South China Sea. It specialises in launching backpack-sized nano-satellites and offers services to Southeast Asian businesses.
EFISHERY (INTERNET OF THINGS, INDONESIA)
This five-year-old start-up produces a smart fish and shrimp auto feeder that can be controlled via smartphone to help prevent overfeeding that could pollute the ecosystem and put the fishes' health at risk. With the smart feeder app, farmers try various feeding methods to find the one most favoured by their fish, increasing efficiency and accelerating fish growth. The company has also created a smart sensor that can detect when fish are hungry. When fish are full, the sensor stops the device from feeding them, helping farmers reduce their food cost.
ATILZE (INTERNET OF THINGS, MALAYSIA)
Kuala Lumpur-based Atilze is in the forefront of IoT development with a footprint on sectors ranging from agriculture to smart living and cars. Its smart sensors enable farmers to keep a close eye on their land from the comfort of their homes. It also helps asthma patients avoid hazardous environments and its emergency response system for cars alerts drivers of a potential crash.
ROBOT3T (ROBOTICS, VIETNAM)
Based in Ho Chi Minh City, ROBOT3T has quickly gained a reputation as one of the region's biggest names in robotics and automation. ROBOT3T designs and builds industrial robots at an affordable price for small and medium enterprises in developing countries. The company has 500 clients in mechanical and heavy industries in 60 countries.
ADMOV (ARTIFICIAL INTELLIGENCE, PHILIPPINES)
Manila-based AdMov is an in-vehicle advertising platform that provides customised content to Uber riders. Equipped with a front-facing camera, its tablet can detect the passenger's age and gender through facial recognition. Then the platform matches the rider with relevant ads using AI. The company is teaching computers how to analyse user behaviour, with a plan to also take riders' mood into account when recommending advertisements.
BORDERPASS (INTERNET OF THINGS, MALAYSIA)
BorderPass provides help to travellers in Southeast Asia, one of the world's fastest growing aviation markets. Users can first submit immigration forms online and then pass through border control by scanning their face and waving their hand across a smart sensor. The company's first auto gate was installed at Kuala Lumpur International Airport last year.
ASLAN PHARMACEUTICAL (BIOMEDICAL, SINGAPORE)
Founded in 2010, the company has developed four drugs to fight cancers prevalent in Asia. While its products have not hit the market yet, the company's progress has led to its listing on the Nasdaq Stock Exchange this year, following its US$33 million IPO on the Taipei Exchange in 2017.
DAPACT (BLOCKCHAIN, CAMBODIA)
DApact is a cryptocurrency-based microloan provider in Phnom Penh. Its customers receive a loan in the form of digital tokens and cash it out at supported pawn shops. Since transferring cryptocurrencies requires no more than a phone and Wi-fi connection, DApact is capable of serving millions of people without bank accounts. The traceable character of cryptocurrencies also frees the company from the need of internal audits. That, in turn, has lowered operation costs by two-thirds compared to conventional lenders. All the savings have translated into a lower interest rate for borrowers, in the context of Cambodia, mainly poor villagers.
DATTABOT (BIG DATA, ARTIFICIAL INTELLIGENCE, BLOCKCHAIN, INDONESIA)
Dattabot is an AI-powered platform for connecting, cleansing and building data to create value-added services. The 15-year-old company has launched initiatives in media, telecommunications, agriculture, retail, legal, health care and finance. Dattabot also established a blockchain-backed subsidiary called HARA in 2015 to focus on the food and agriculture industries.
JUICEINNOV8 (BIOTECHNOLOGY, THAILAND)
This start-up aims to shake up the juice industry through biotechnology. By cultivating and screening hundreds of microbes, JuiceInnov8 claims it has found natural sugar reducers which will enable manufacturers to customise the level of sweetness in their products.
SIX NETWORK (BLOCKCHAIN, THAILAND)
SIX Network aims to reinvent Thailand's digital and creative economy through a decentralised system that is transparent and secure. The network is founded by start-ups from Thailand and Korea whose combined valuations total US$4 billion, Bangkok-based big data company Computerlogy, Ookbee U, a joint venture between Tencent and digital publication platform Ookbee, and Yello digital marketing. The system will feature three main structures: a digital asset wallet, financial services and wallet-to-wallet commerce.
EVOWARE (BIOTECHNOLOGY, INDONESIA)
Jakarta-based Evoware makes eco-friendly, edible and biodegradable wrappers and plastics from seaweed. The firm focuses on packaging for food and drinks as 70 per cent of plastic waste that goes into the ocean is from the food and drink industry.
BY COCO LIU / RESTY WORO YUNIAR ( https://www.scmp.com )